Fun Garden Activities to do with Your Kids
Fun Garden Activities to do with Your Kids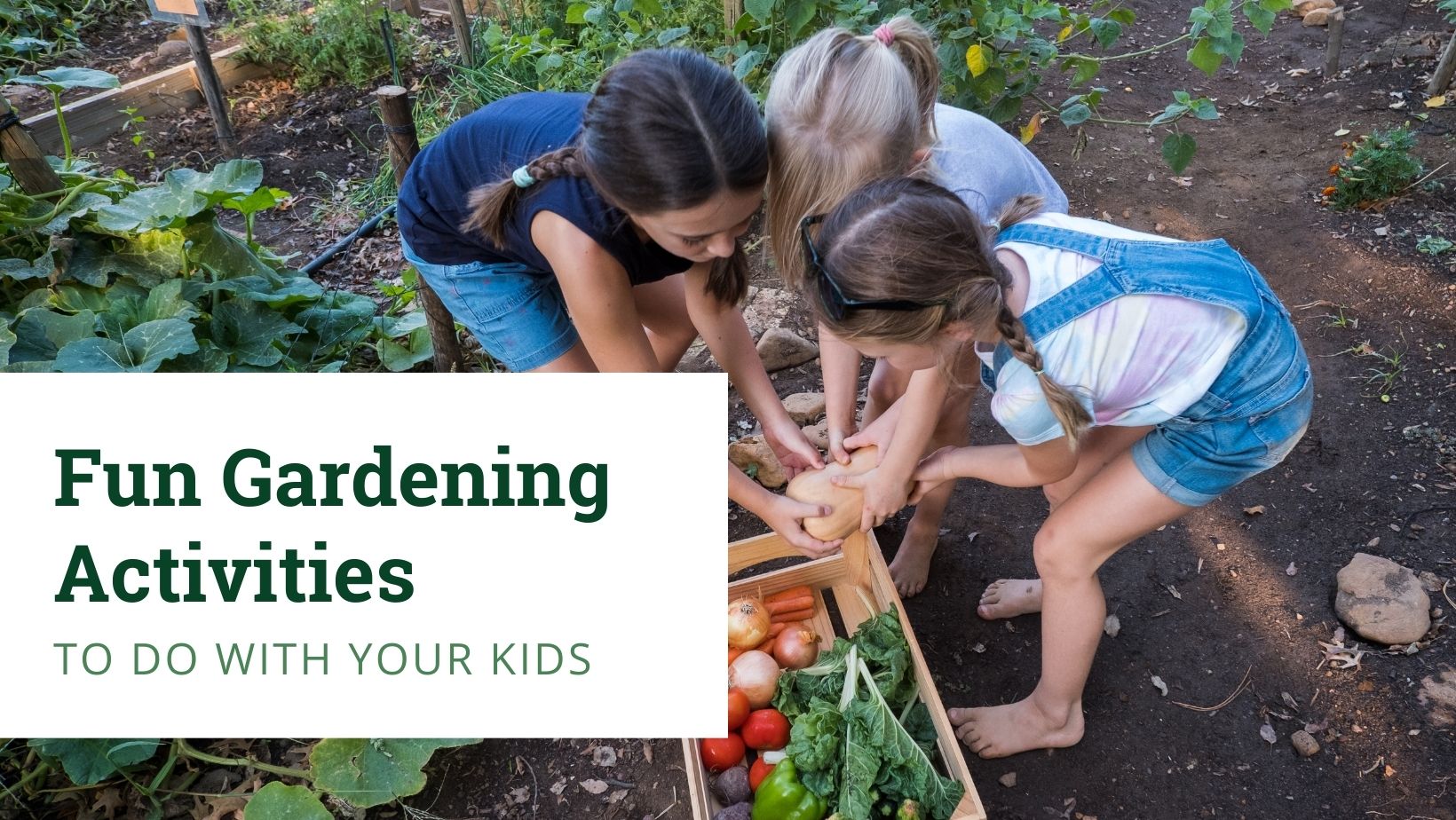 There is nothing more fun for young children than outdoor activities they can do with their parents. One of the best activities to introduce to your little ones is home gardening.  
Home garden activities teach children new skills, help fine-tune their motor muscles, and let them get an up-close look at the development of plant life. Not only that, but it is a whole lot of fun too! 
There are many different outdoor gardening activities you can do with your kids this summer, and many of them come with a minimal price tag.  
All you need is seeds, water, a few household supplies, a little bit of time, and a great big imagination! 
Keep reading to discover some of the best gardening activities to do with your kids this summer.  
The Best Garden Activities for Young Children 
This summer is the perfect time to introduce your child to the wonders of home gardening.  
Here is a quick list of our top gardening activities perfect for young children.  
Create a mini plastic bottle garden. 
Do you have plastic water bottles laying around your home? Don't just throw them away!  
Plastic bottles are excellent for growing plants. Simply cut the bottle in half, create a few drainage holes in the bottom, fill the container with potting soil, and plant some seeds.  
These plants are best kept outdoors, but if you have a moist, warm area inside your house, you can make a mini greenhouse.  
The best part about water bottles is that since they are see-through, you can watch as the roots develop. This will help give your kids a more complete picture of how plants grow! 
Paint some garden stones. 
This is one of the best ways to let your children use their imagination while gardening. Break out the paints and go hunting for rocks.  
The best rocks will be smooth and flat, like a canvas. The best painting rocks are also the best for skipping on lakes and ponds.  
Once you have your rocks together, you can paint them with any design you want. You can even use them as plot markers for your garden, indicating to you which plants will grow where.  
Make a butterfly patch. 
Butterflies are one of the most beautiful insects in the animal kingdom. Because of their bright colors and the wide variety of butterfly species, your children will naturally be fascinated by these vibrant little creatures.  
A butterfly patch is one of the best ways to attract butterflies to your yard. Research some butterflies in your area and grow plants that they are known to eat.  
Here are some common Ohio butterflies and the nectar plants that make up their diet.  
Painted lady - Joe-Pye Weed, Liatris (Blazing Star), Bee Balm, Goldenrod, Phlox, Asters 


Spicebush swallowtail - Milkweed, Butterfly Weed, Purple Coneflower, Joe-Pye Weed 


Monarchs - Milkweed, Butterfly Weed, Joe-Pye Weed, Goldenrod, Asters, Liatris (Blazing Star) 


Eastern tiger swallowtail - Butterfly Weed, Bee Balm, Phlox, Milkweed, Liatris (Blazing Star) 
Grow a potato in a jar. 
This is a great activity for kids as it takes very little work, is stunningly cheap, and has a short time period for success.  
All you need is potato from your kitchen, a glass jar, and a few toothpicks. 
First, take the toothpicks and poke them into the sides of the potato. Next, take the potato and place it in the jar so half the potato is below the jar's lip. Then, fill the jar with water until the water touches the bottom of the potato. Finally, place the jar in a sunny window.  
After that, all you have to do is wait. In about two weeks' time, the potato will begin to sprout greenery. Change out the water as often as needed so that you can see through the jar to the other side.  
This simple project is a great introductory activity for young children and will help them think about where the food they eat comes from.  
Teach Your Kids About Gardening This Summer 
Home gardening is one of the best activities for kids to help get them away from TV, tablets, and video games. Gardening helps kids to start thinking about the world around them. Not only that, but it also lets them take an active part.  
Gardening is a lifelong hobby. If you are looking to get your children interested in gardening, take them for a trip to Knollwood Garden Center! 
We sell flowers, seeds, décor, and more! No matter if you are growing vegetables, shrubs, flowers, or trees, Knollwood Garden Center has something for you! 
If you want to make gardening a part of your summer plans, take a trip to Knollwood Garden Center!