Now Hiring!!!!!
We are taking applications now for friendly, smiling people...
...we would like to work with every day! You can fill out an application at our front desk, or print and return one in person from our Resources webpage. Weekends required, and a willingness to learn, have fun, and help each other and our customers.
Snow Closing
Feb 15, 2021
-
Feb 17, 2021
Due to impending weather, we plan to close early on Monday, 2/15 and anticipate being closed or opening late on Tuesday, 2/16. We plan to re-open at 10:00 Wednesday morning. Please check for changes before coming out!
Houseplant Salebration!
Feb 10, 2021
-
Feb 20, 2021
Thursday, February 11- Saturday, February 20
20% Off All Houseplants!
Consider this our Valentine to you, our fellow houseplant lovers! Barb has packed the greenhouse with loads of fun, interesting, and special plants, just in time for treating the plant lover in your life (especially if that's yourself)!
FLowering plants not included, no adjustments to prior sales.
Winter Grass Seeding Event
Jan 29, 2021
-
Jan 30, 2021
This Friday and Saturday enjoy 20% Off all Grass Seed purchases for Knollwood's Winter Lawn Seeding Event.
Also, receive a free pound of Green Velvet Grass Seed* just for stopping in!
Knollwood is open Monday-Friday from 9-6 and Saturday from 9-5: bring in pictures, sq ft estimates, and growing conditions and we would love to help you get your lawn growing in the right direction!
*One pound of Free Seed per household.
Final Christmas CLEARANCE
Dec 26, 2020
-
Jan 9, 2021
All Christmas Merchandise Now 75% Off
Trees not included.
While supplies last, no returns or adjustments!
Christmas Countdown Sale Part 3
Dec 21, 2020
-
Dec 24, 2020
All Christmas Merchandise Now 40% Off
The biggest savings yet! Stock up for next year!
Christmas Countdown Sale Part 2
Dec 19, 2020
-
Dec 20, 2020
All Christmas Merchandise Now 30% Off
Save a little more this weekend...don't wait to long or it may be gone!
Christmas Countdown Sale Part 1
Dec 16, 2020
-
Dec 18, 2020
All Christmas Merchandise 25% Off
Wednesday through Friday!   Don't let your favorites get away!
Holiday and Winter Hours
Dec 15, 2020
-
Jan 3, 2021
Hours Now:  Monday-Saturday 9:00-6:00  Sundays  11:00-5:00
Holiday Hours: Christmas Eve 9:00-3:00, Closed Christmas, 12/26 9:00-5:00, Closed Sunday 12/27.
New year's Eve  9:00-3:00, Closed New Year's, Closed Saturday and Sunday Jan 2 and 3.
Winter Hours Beginning Saturday 12/26:  Monday - Friday 9:00-6:00, Saturday 9:00-5:00, CLosed Sundays.
Poinsettia Sale
Dec 12, 2020
-
Dec 13, 2020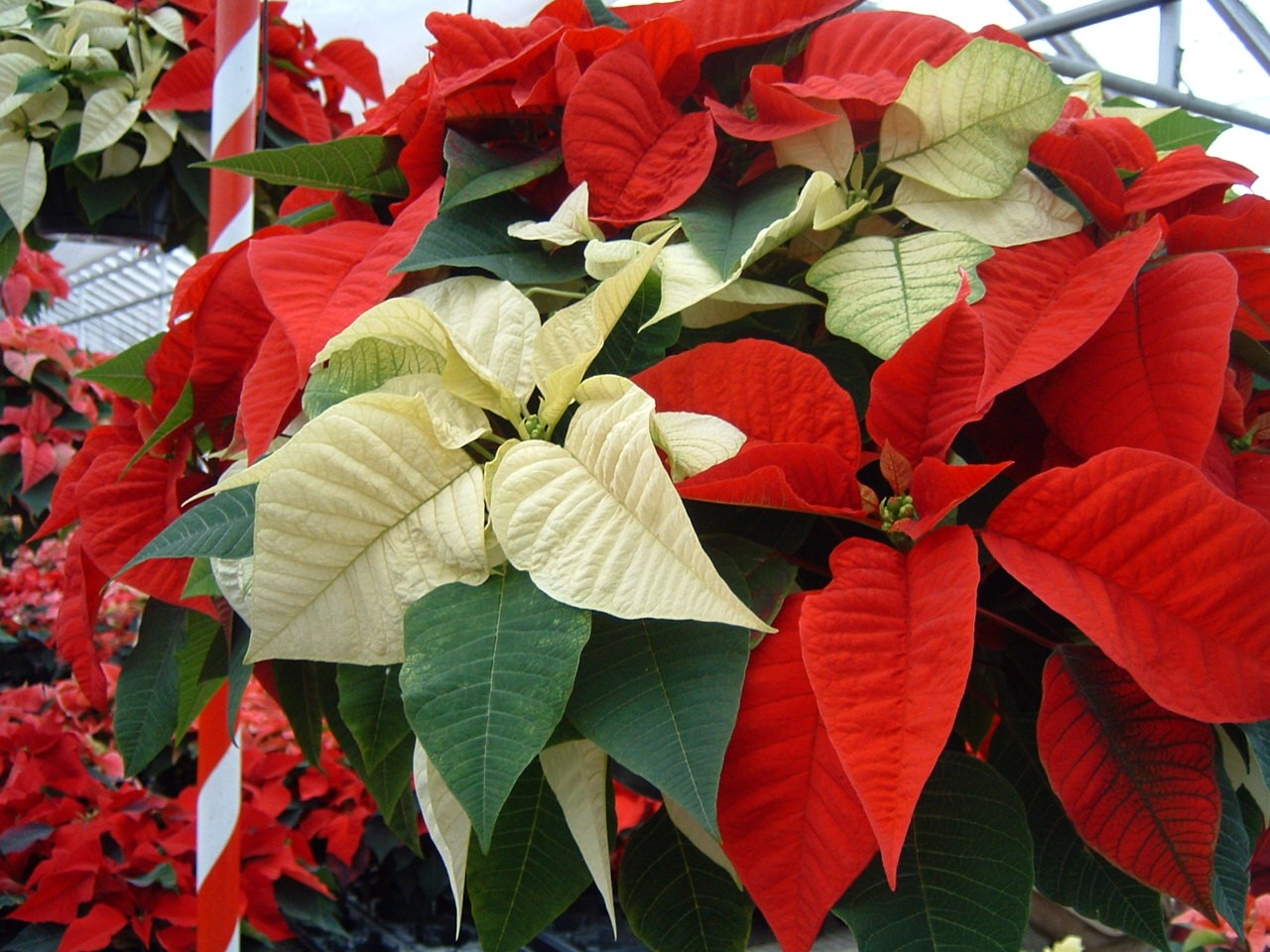 20% Off All Poinsettias
The classic holiday flower in an outstanding assortment of colors from shades of red, burgundy, pink, white, marbled, and more.  A timeless gift for friends, clients and co-workers...
Carry out only, no further discounts.  Does not apply to advance orders.
Holiday Decorating Weekend
Nov 27, 2020
-
Nov 29, 2020
20% Off Storewide, Friday-Sunday Nov. 27-29
It's time to decorate and drape your home in Christmas finery: lifelike trees and wreaths, fresh pine wreaths and boughs, Christmas decor, blooming holiday plants, gifts for gardeners and Christmas lovers alike.
Porch Pot Workshops
Nov 21, 2020
-
Nov 22, 2020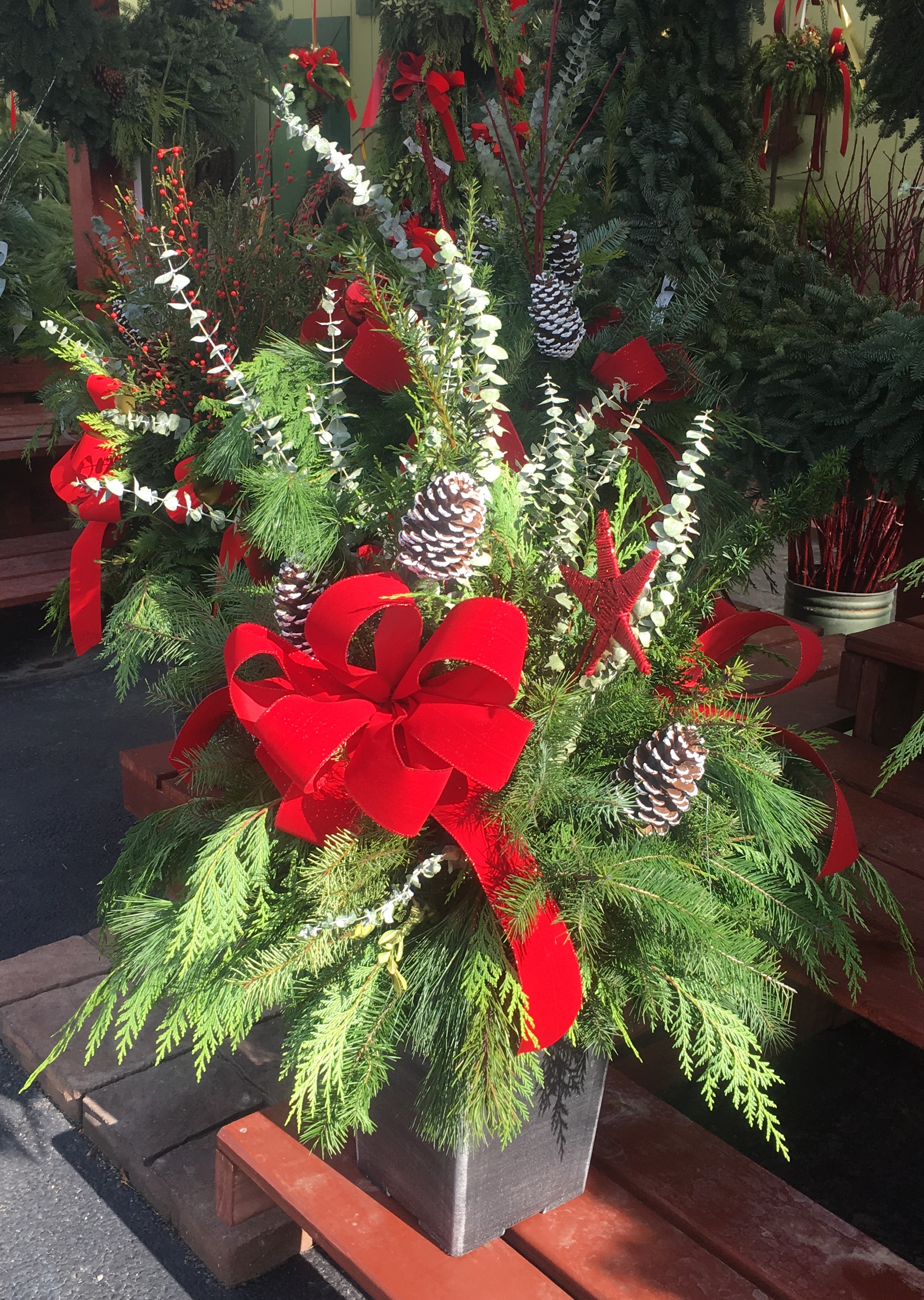 A big, fresh pine porch pot is a great, lasting  winter decoration…
and it's a great way to spend time with friends, too!. Join our designers to create a porch pot of your own to take home: Registration by phone is required, as class size is limited. Fee: $39.99 to create a 12" pot, bring pruners and gloves if desired. (No discounts apply to class fees)
Saturday November 21, 9:30  
Sunday November 21, 11:30  Class Full
Saturday December 5, 9:30  Class Full
Sunday December 6, 11:30   Class Full