Perennial Heuchera Special
Jul 19, 2018
-
Jul 30, 2018
Special Buy Heuchera (Coral Bells) Just $10.99!
Specially marked 'Midnight Rose', 'Caramel', 'Georgia Peach', or 'Paris' are $10.99, while supplies last! Reg. $19.99-$22.99! No further discounts.
Great for adding color and ruffly texture to shaded areas of your garden...you'll be hooked on all the varieties for sure!
All Other Heuchera are 20% Off, no further discounts.
Summer Sales
Jul 19, 2018
-
Jul 30, 2018
Quart-Size Perennials 50% Off
Reg. $7.99-$9.99
8" Summer Annuals now $7.99
Reg, $9.99
Flowering Hanging Baskets now $21.99
Reg. $27.99
Perennial Peonies 50% Off
Water Garden Plants 50% Off
Bulk and Pack Seeds 25% Off
In stock merchandise only, no adjustments to prior sales.
Cincinnati Zoo's Best Plants Program
Jul 30, 2018
-
Aug 26, 2018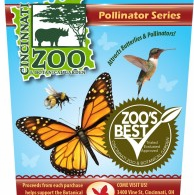 After more than 25 years of trialing plants, The Cincinnati Zoo & Botanical Garden knows which plants grow and look best in our region. By focusing that list to the plants that benefit pollinators the most, we have created the Zoo's Best Plants for Pollinators Plant Series.  A selection of these can be found at Knollwood Garden Center, and a portion of the proceeds from every purchase will support further plant trialing at the Zoo.  Check out more information here, and look for this label at Knollwood!